Polyester putties
BESA-LIGHT

Lightweight Body Filler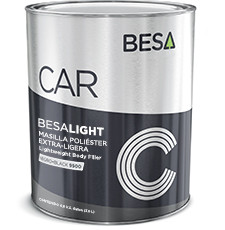 Lightweight polyester putty formulated with microspheres, designed for repairing of imperfections such as sandpaper marks or impacts up to 6mm deep.
Its particular composition allows an easy to sand behaviour, minimum moisture permeability, without porosity, good adhesion and great finish onto most supports.
While sanding, a great quantity of heavy dust particles is generated, with a reduction of dust in the environment.
Good adhesion on steel, electrozinc, galvanize, aluminium and fiberglass.
Polyester putties: