Polyester putties
BESA-FIB

Low Density Fiberglass Putty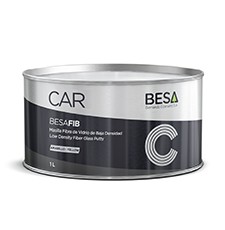 The Putty BESA-FIB, with Fiber Glass, has been developed to fill up the superficial deffects and to reinforce the weakened areas as scratches, holes or chipping in substrates such as steel, aluminium, galvanise, cast steel or laminates in glass reinforced polyester (GRP). It increases the mechanical resistance in the repaired part.

It can be used in the repairs of the cars and industrial vehicles bodyworks, railway equipment, machinery, boats, . . . Also, it is suitable for patterns and prototypes construction, where the material required should be easily mouldable in 2 - 4 mm layers and easy sanding with finer grains than those used in conventional putties.

It emphasizes by its creamy consistence, and its low density which allows a high filling power, resistance, ease of application and sanding.
Polyester putties:
BESA News