Fillers
BESA-WET

2K Acrylic Filler W/W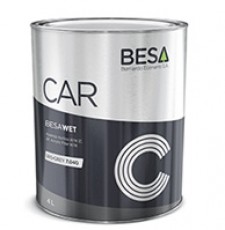 Designed to optimize the painting process in the Car Refinish, as it is recoatable after 15-20 min without sanding. The productivity of the Bodyshop increases reducing the spray booth time.
Good adhesion on cataphoresis, improving the process specially in the reparation of new parts.
Easy application with satin and soft finish, allowing an easy identification of defects before the application of the topcoat.
Fillers:
HOW MUCH DO YOU NEED?
Find out by using our Coverage Calculator
AMOUNT REQUIRED
-
The data given in the "Thickness" box corresponds to the recommended average thickness, as stated on the Technical Data Sheets. If you want to make the calculation with a different thickness, you can just modify it in the box.
The densities of the products that have been taken into consideration are the average densities of the product.
The given result refers just to component A.
BESA News

The product is designed to optimize the painting process in the Car Refinish