Fillers
BESA-CAR

2K HS Filler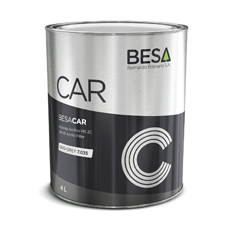 2K HIGH BUILD Filler suitable for the repairing of both car and industrial vehicles.
High coverage and easiness of sanding. Dry sanding 3-4 h.
Fillers:
References
Light Grey 7035
Medium Grey 7040
Dark Grey 7016
HOW MUCH DO YOU NEED?
Find out by using our Coverage Calculator
AMOUNT REQUIRED
-
The data given in the "Thickness" box corresponds to the recommended average thickness, as stated on the Technical Data Sheets. If you want to make the calculation with a different thickness, you can just modify it in the box.
The densities of the products that have been taken into consideration are the average densities of the product.
The given result refers just to component A.
Acrylic Hardener