Masking
Cinta recupera molduras

Double Sided Foam Tape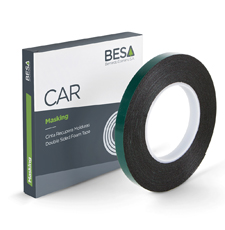 PE tape with a very strong double-sided adhesive.
Resistant to solvents, UV and high temperatures.
Specially designed for fixing strips, badges and other car accessories.
Masking systems:
References
6 mm. x 10 m.
9 mm. x 10 m.
12 mm. x 10 m.
15 mm. x 10m.
19 mm. x 10 m.