Sprays


AUTOMATIC Spray Packaging Machine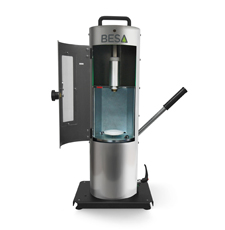 Both simple and inexpensive system in order to avoid big stocks and solve any colour need your customers may have in spray paints.
Excellent complement to the URKI-SYSTEM Mixing System. Just 100 ml. of paint by spray, which are introduced in the aerosol by actuating the packaging machine with a simple, quick and safe action.
MACHINES (PACKAGING):
References
Model 7001: AUTOMATIC Spray Packaging Machine
Pneumatic compressor required. The pneumatic system is extremely fast and
completely automatic. Stainless Steel.
Work Pressure: 6/8 bar.
Dimensions: H= 770 mm, L= 270 mm, D= 330 mm.
Weight: 35 Kg.