DECORATIVE Binders
URKI-FER

Forge Effect Paint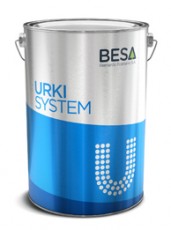 Protection and decoration of gates, bars, lamp posts, railings, doors and metal structures.
Thanks to its formula based on metal pigment of a shell structure, it provides an excellent protection of the iron and steel exposed to all weather conditions, and at the same time it gives a pleasant antique forged iron appearance.
DECORATIVE Binders:
HOW MUCH DO YOU NEED?
Find out by using our Coverage Calculator
AMOUNT REQUIRED
-
The data given in the "Thickness" box corresponds to the recommended average thickness, as stated on the Technical Data Sheets. If you want to make the calculation with a different thickness, you can just modify it in the box.
The densities of the products that have been taken into consideration are the average densities of the product.
The given result refers just to component A.