WHAT TYPE OF PAINT OR SYSTEM TO USE WHEN PAINTING AN INDUSTRIAL VEHICLE?
The first thing to consider is the type of system to be used in industrial vehicle painting. In this sense, the most commonly used type of finish to paint industrial vehicles is undoubtedly the single stage finish.
Single stage paint or direct gloss paint is a two-component paint made of pigments and glossy acrylic resin. Unlike the two-coat paint, only one single finish coatis required. A final clearcoat is not necessary.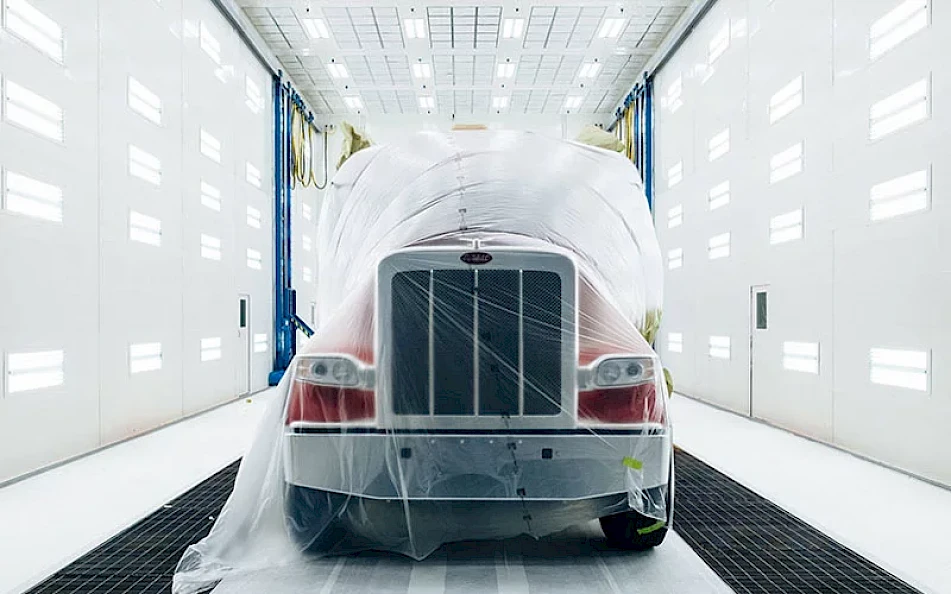 Industrial vehicles are usually more exposed to possible collisions, friction, bad weather conditions or contact with grease and oils. Deterioration of the paintwork occurs more than in passenger cars.
QUALITY AND COLOUR VARIETY IN PAINT FOR INDUSTRIAL VEHICLES
Single stage paint is directly related to solid colours. This type of colours are mostly used in the industrial vehicle sector, given their optimal functionality and lower cost than effect colours, for example.
Solid colours are the most commonly used in the industrial vehicle sector
As pointed out above, an increased demand and variety of different single stage direct gloss colours in commercial vehicles, lorry cabs or coaches, means that the specialist bodyshop in the sector should resort to painting systems that allow them to reproduce any colour code on the market, providing a quality that meets the customer's requirements.
It is therefore particularly important to have a versatile and high quality painting system, with a wide database and colour codes, in order to achieve an excellent reproduction in industrial vehicle paintwork.
URKI-MIX PRO, COLOUR GUARANTEE IN SINGLE STAGE FINISHES
BESA's URKI-MIX PROis a solvent-based paint system with excellent coverage and good blending, which lead to achieving high productivity and excellent finish.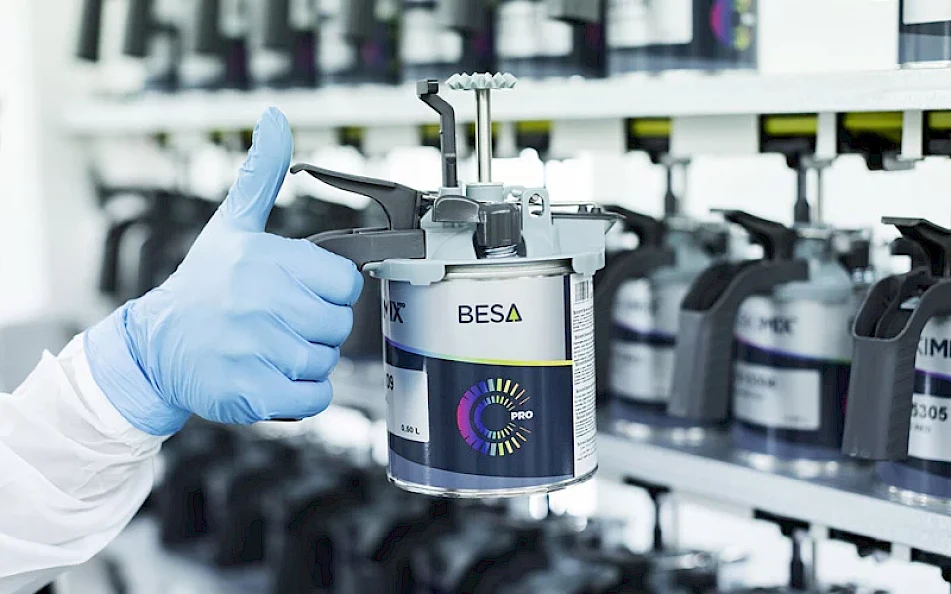 This system provides high quality of finish for repainting single stage colours, using pigments that are highly solid and resistant to UV light. It has a mixing machine with 38 positions specially designed for painting direct gloss colours.
The URKI-MIX PRO system integrates a colour chart that has been specifically developed for repainting solid colours. It is known as Colour Truck, and includes most colours on the market prepared in direct gloss. It is compliant with the current regulations on VOC emissions. It also provides an accurate colour system that allows searching for the colour code.
URKI-MIX PRO also provides the necessary tools for excellent colour reproduction. Integrating the colour chart with the use of the spectrophotometer allows obtaining virtually all the single stage colours available in the sector.
The URKI-MIX PRO colour management software also allows working against the cloud, so you can share formulas with users in other workspaces and access their formulas, no matter where they are.
It is an excellent option for single stage painting process systems, and it can adapt to different types of paints and vehicles, such as:
Painting of trucks, trailers and semi-trailers.
Bus and coach painting.
Painting of commercial fleets (vans, light vehicles).
Painting of industrial cranes.
Etc.