Bind. Iindustrial
2K SINGLE-COAT ACRYLIC ENAMELS
URKI-LATEX

Glossy Chlorinated Rubber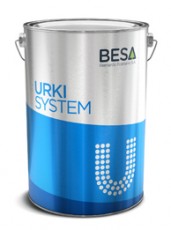 For the protection of metallic surfaces outdoors, in industrial or marine environments: bridges, cranes, containers, silos, chemical plants, etc.; also for civil works in concrete.
Containing Chlorinated Rubber and insaponificable plastyficants with great resistance to water, acids and alkalis.
It does not admit contact or splashings with Thinners.
1K SPRAY-GUN ENAMELS:
HOW MUCH DO YOU NEED?
Find out by using our Coverage Calculator
AMOUNT REQUIRED
-
The data given in the "Thickness" box corresponds to the recommended average thickness, as stated on the Technical Data Sheets. If you want to make the calculation with a different thickness, you can just modify it in the box.
The densities of the products that have been taken into consideration are the average densities of the product.
The given result refers just to component A.