Primers
F-714

Shop-Primer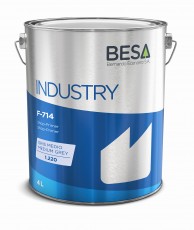 Phosphatant Primer with an excellent adhesion over steel, galvanized steel and other light metals.
Quick drying: 15´, and recoatable wet on wet.
It can be welded and it does not emit toxic fumes.
Phosphatant primers:
References
Cream 1749, Oxide red 8072
F-714/40 – MATT Black 9005
HOW MUCH DO YOU NEED?
Find out by using our Coverage Calculator
AMOUNT REQUIRED
-
The data given in the "Thickness" box corresponds to the recommended average thickness, as stated on the Technical Data Sheets. If you want to make the calculation with a different thickness, you can just modify it in the box.
The densities of the products that have been taken into consideration are the average densities of the product.
The given result refers just to component A.
Guide to Industrial Painting

Systems with 1K Primer A 15 - Phosphatant - PUR System

Guide to Industrial Painting

Systems with 1K Primer A 20 - Phosphatant- PUR System (Textured)