Bind. Iindustrial
2K SINGLE-COAT ACRYLIC ENAMELS
URKI-POX SAT

2 K Satin Epoxy Enamel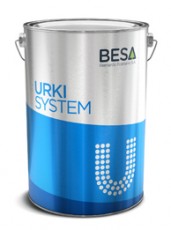 Suitable for the protection of metal elements exposed to very aggressive environments, in the chemical industry, maritime zones, etc. It goes yellow outdoors.
It may be applied High Build with Airless Spray Gun.
It possesses excellent mechanical properties, combining hardness and elasticity; because of its chemical nature it shows a high resistance to grease and oil, acids, thinner, alkaline and Salt Solutions. Great waterproofer.
2K EPOXI ENAMELS:
HOW MUCH DO YOU NEED?
Find out by using our Coverage Calculator
AMOUNT REQUIRED
-
The data given in the "Thickness" box corresponds to the recommended average thickness, as stated on the Technical Data Sheets. If you want to make the calculation with a different thickness, you can just modify it in the box.
The densities of the products that have been taken into consideration are the average densities of the product.
The given result refers just to component A.